It is not a bazaar. The vegetable seller is selling vegetables beside the lake of. It is at the Dhanmondi area of Dhaka City. In a winter morning he opened his shop beside the lake. This shop is temporary that is on a hand cart so that he could move it easily from one place to another place. Acta Horticulturae has written:

The country is in the humid tropical region. The climate tends to remain mild due to the influence of the Bay of Bengal and the monsoon wind. The annual rainfall varies from 1112 to 5096 mm with an average of 2076 mm. Most of the rainfall (80%) is received during June to mid October, the second half of the hot season. The hot season starts from mid February. The winter (early November to mid February) is dry, and mean minimum temperatures during the season vary from 8°C to 13°C.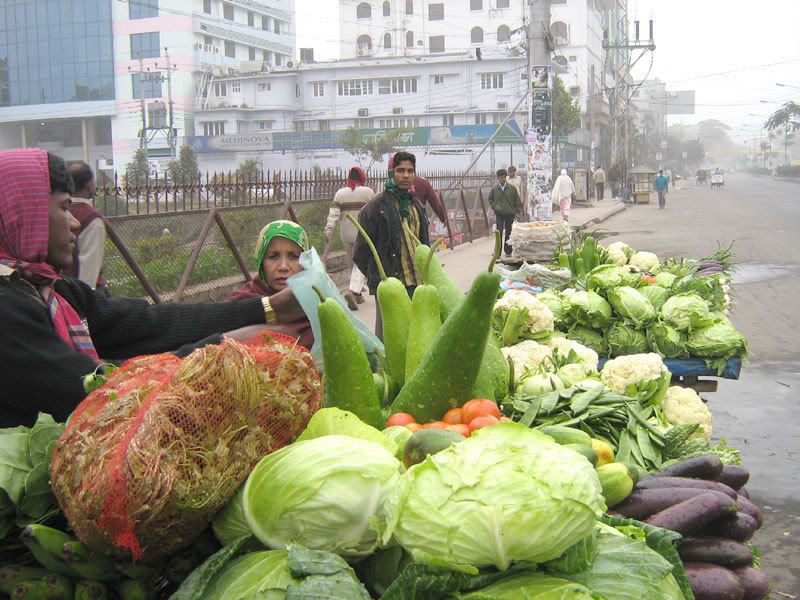 In that morning who were his customer? Well, most of the customers are that persons who came to the lake in the morning for morning work. Men and women both are his customers.
The shopkeeper buys this form Kawran Bazar which is well as a whole sell market. It is one of the biggest whole sell markets in Dhaka City. Some he byes these vegetables for the opposite side of the river Buriganga for extra benefit.