In this picture four people four people are setting at rest. Why? What about them? They are both hawkers. In that time there was drizzling then.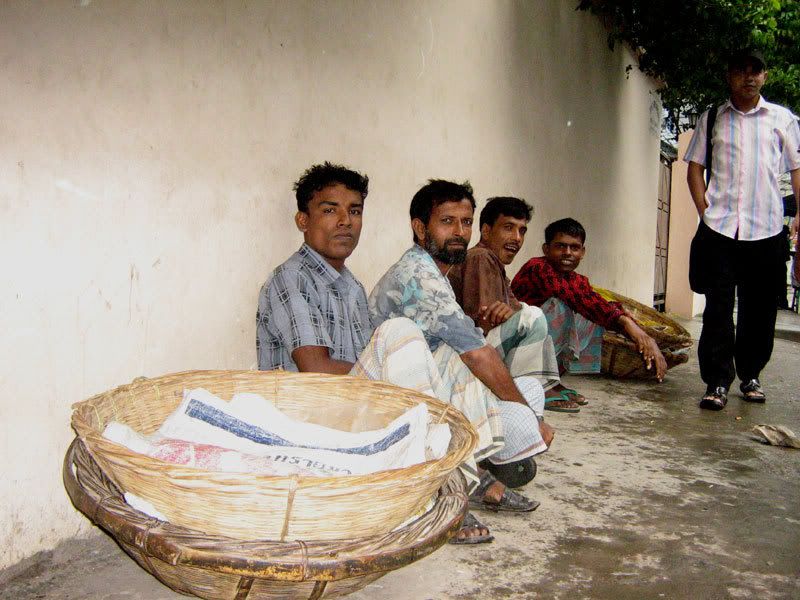 About hawkers in Bangladesh the New Nation has written:
Jaba is a girl of 16 years. She sells flowers/floral wreaths to the car riders, rickshaw, CNG and cab passengers for livelihood. The money she earns is not enough; yet she does it finding no second choice. Jaba was found with her younger sister Hosne Ara, who has also chosen the profession of her elder sister. However, she does it after return from school at 12.00 hours. Hosne Ara reads in class 11 in UCEP School situated at the capital's Segunbagicha area. There she studies Bengali, English, Mathematics and Social Studies. To a question, she said, "I can write my name. I intend to continue studies as far as possible provided I receive state support."

Jaba purchases flowers from in front of the Shishu Park. Then she makes bunches and wreaths for sale to sell to those mentioned hereinabove. The price of each bunch is Taka 10/00 and that of each wreath of dahlia is taka 2/00 only. Jaba said, "I profit Taka 2/00 from each bunch of flowers and paisa .50 from each wreath. Some car riders and the passengers glower and reject outright. Some people refuse to purchase without telling anything and some kind hearted respond on humanitarian ground."
They use to collect old newspapers and broken plastic things and sell it in another place. They all live at Bakshibazr in Dhaka. They had five in a group but when I took the picture one went away.
Everyday they buy papers and sell it near their house called Nimtoli. They invest a little amount of money and profit is also a small amount. From here they have to send a small amount of money to their home for theirs children and wives.